Review of Messermeister Oliva Elite

If you are looking for a performance knife set with excellent design, look no further than Oliva Elite from Messermeister. From the moment you unbox the impeccably wrapped Oliva Elite 7 Piece Knife Block Set, you'll be struck by the exquisite beauty of the natural, Italian olive wood handles that adorn each of the 4 hammer forged, hand stropped blades and 10" honing steel. This stunning knife set has a boutique elegance whose one-of-a-kind handles are unique to each piece of Oliva cutlery, making them a phenomenal conversation starter and treasured wedding, birthday or housewarming gift. 
Housed in a rich 16 Slot Walnut Knife Block—providing the perfect rustic-refined contrast to the honey-toned grips—the dark, stylish storage block ensures you have a convenient way to protect and organize your most essential culinary tools. Since the set comes with 4 blades—an 8" Stealth Chef's Knife, 9" Scalloped Bread Knife, 6" Utility Knife, 3.5" Paring Knife—as well as a 10" honing steel, and 1 pair of  8" Spanish Forged Take-Apart Shears, you'll be left with additional storage for up to 6 steak knives and 5 kitchen knives. To round out your collection, we recommend pairing your 7-piece set with the Oliva Elite 6 Piece Fine Edge Steak Knife Set, which will match perfectly, help to fill out your block, and cover all your individual cutting needs. Should the included knife block not fit with your design aesthetic, a Magnetic Knife Bar or Block is a great way to show off your blades.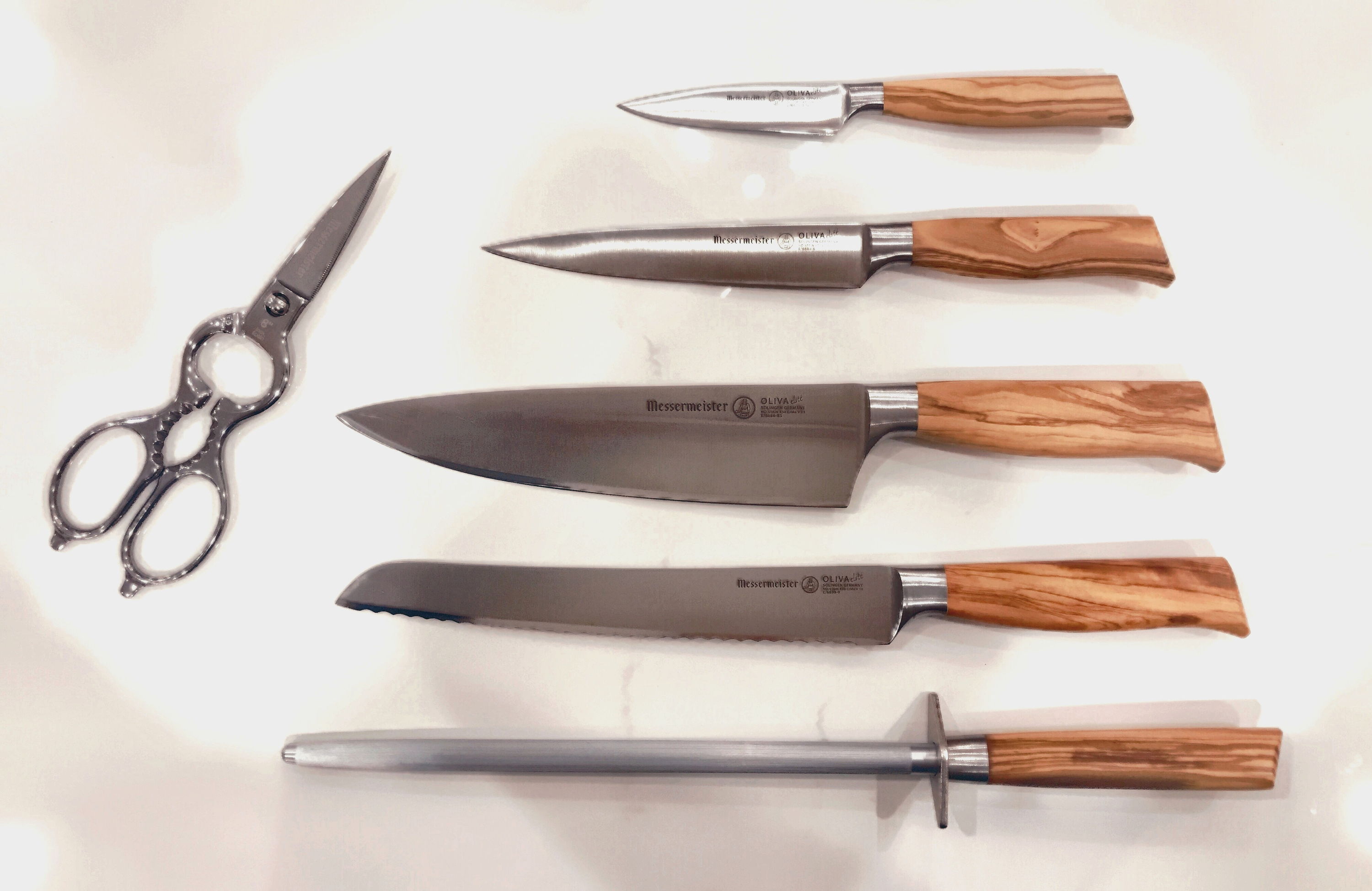 Made from one-piece, hot-dropped hammer-forged steel, the blades are crafted from German 1.4116 stainless carbon alloy—known for its toughness, durability, and resistance to stains and corrosion. Heated and cooled to a Rockwell hardness of 57-58, the blades have unmatched edge retention that allows them to hold their sharpness for significantly longer than other knives. At the time of this review, the knives have been used for nearly a month without a noticeable decline in performance. Of course, with regular use there will come a time when you'll need to restore the razor-like edge of your blades. Luckily, you can rest assured knowing that they've been designed with a bolsterless heel to allow for easy re-sharpening from heel to tip.
Combining the most useful blades in the kitchen and the tool you need to keep them sharp, this stylish and functional set harnesses an ergonomic design that's light in your hand, yet powerful enough for you to command it skillfully. As is the case with all Messermeister masterpieces, these knives have been created with a full tang for improved stability, weighting, and balance, allowing you to exert more power with less force. Thanks to the 15° Elité edge—which has been hand polished on a cloth wheel to produce the sharpest cutting edge possible—you can say goodbye to the days of squashing delicate produce and compacting fluffy loaves with old, dull blades. Instead, say 'hello' to effortless precision cuts and flawless, even slices. Watch as you transform from amatuer at-home cook to preparing meals like a trained culinary professional—we have a feeling that you won't be able to keep your hands off your Oliva! Cut through tough melon rinds, slice into thick, crusty bread, peel soft-skinned fruits and vegetables or mince, chop, dice, and slice meats, seafood, poultry, and produce. Heck, try whipping up a fruit salad or gourmet appetizer platter to truly experience the full range of cutting prowess. Just make sure you take good care of your premium knives by hand washing and drying them after use, and avoid putting them through the dishwasher.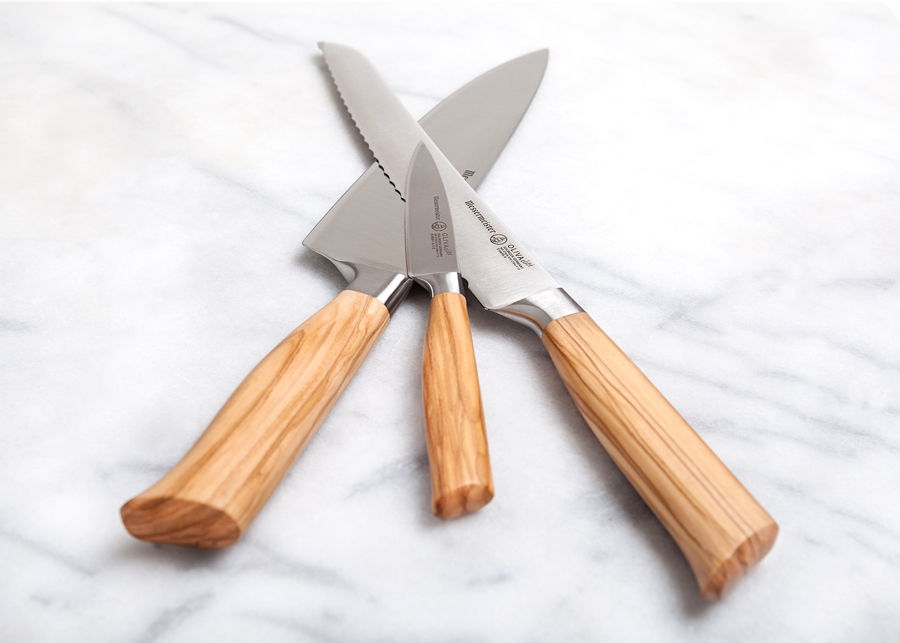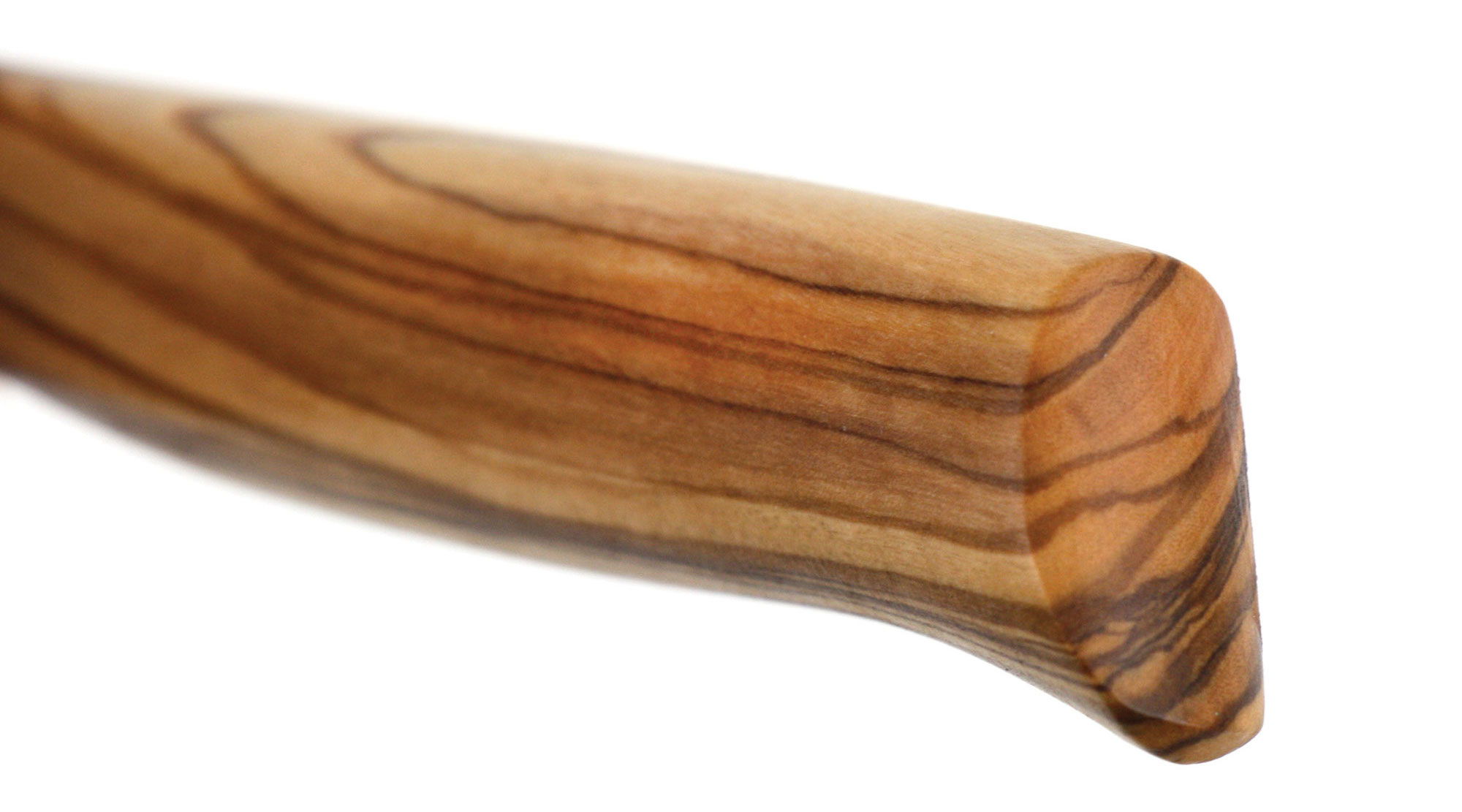 Also included in the set are Messermeister's 8" utilitarian kitchen shears, that come apart for easy cleaning and allow you to do more in the kitchen—like open packages and bottles, skin chicken, clip herbs, trim artichokes, and dice bacon. Made of high-quality Inox stainless steel, these versatile culinary scissors are ready to take on any task that you can throw at them—no matter the size—while their ultra-sharp blades and ambidextrous hand holes will have you questioning what you ever did without them. We guarantee that these will be amongst the sharpest scissors that you've ever used, period.
Handcrafted and memorable, these kitchen knives are made one at a time in the historic cutlery capital of the world—Solingen, Germany—and use the same trademark techniques employed by master cutlery makers for hundreds of years. And thanks to Messermeister's Knife for Life™ guarantee, you can purchase with confidence knowing that they'll be protected by a lifetime warranty against material and manufacturing defects. When you purchase Messermeister's Oliva Elite 7 Piece Knife Block Set, you're buying more than just beautiful knives, steels, and shears—you're investing in centuries of expert craftsmanship and a more precise and beautiful way of life in the kitchen.